Behind each of our projects are people who make them successful. Since the foundation of help alliance, every project is supervised by a volunteer project coordinator. Together with help alliance and competent local partners, they take responsibility for ensuring that the project work has a positive impact on the beneficiaries and contributes to sustainable development. The two main focal points of the work are "Quality education for all" and "Creating job prospects". However, many of the projects also cover other priorities from the areas of: Nutrition, Health, Environmental Protection, Equality, Inclusion, Integration and Abolish Child Labor.
Quality education for all
Education is a human right and the key to a self-determined life. We are firmly committed to ensuring that disadvantaged children and young people worldwide receive high-quality education. This includes school and preschool education, but also support in extracurricular activities.
Creating career prospects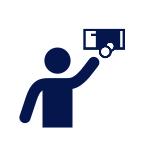 We are convinced that a good vocational training is the basis for a successful professional life. In many project countries, however, there is no state-organized training system. We therefore support young people with high-quality education and training opportunities and provide them with mentors.